Harry Dickson - Tenebras 1: The Invisible Man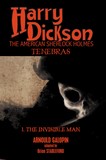 NOTE: YOU ARE PURCHASING AN E-BOOK, NOT A PAPER BOOK. WHEN ORDERING, PLEASE SPECIFY IN THE COMMENTS IF YOU PREFER A PDF OR AN EPUB FILE. THE FILE WILL BE E-MAILED TO YOU AS SOON AS PAYMENT IS RECEIVED.


HARRY DICKSON - TENEBRAS 1: THE INVISIBLE MAN
by Arnould Galopin
adapted by Brian Stableford
cover by Daniele Serra
To All Parisians:
I dispose of three tons of dynamite. I occupy the Catacombs. If the government's threats are carried out, I shall blow up Paris
Tenebras.

Tenebras -- a phantom-like criminal who defies all the police of Europe. Against him are arrayed the forces of Harry Dickson, the American Sherlock Holmes, and the dynamic Inspector Loustaud of the French Sûreté, but also the Simpson Brothers, two ruthless American billionaires who will do anything in their power, and commit any crime, to seize the $1.5 million inheritance of young Teddy, the son of the beautiful Comtesse Dianah de Villerville.

This prodigious criminal saga, penned by Arnould Galopin, the creator of Doctor Omega, was first published in France in 1911—the same year as the better known Fantômas—and is now being presented in English for the first time. The reader will be transported from the catacombs of Paris to the busy streets of Baltimore with non-stop action and plenty of surprising twists.


Contents:
- Introduction by Jean-Marc Lofficier
- Tenebras, le Bandit Fantôme (1911) by Arnould Galopin