Irma Vep and the Great Brain of Mars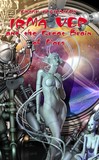 NOTE: YOU ARE PURCHASING AN E-BOOK, NOT A PAPER BOOK. WHEN ORDERING, PLEASE SPECIFY IN THE COMMENTS IF YOU PREFER A PDF OR AN EPUB FILE. THE FILE WILL BE E-MAILED TO YOU AS SOON AS PAYMENT IS RECEIVED.
IRMA VEP AND THE GREAT BRAIN OF MARS
by Frank Schildiner


cover by Phil Cohen
Afterword by Jean-Marc Lofficier
"Bonsoir, Gaspard," Irma Vep said. "You sound as unpleasant as ever. I am here for information and then I shall leave. I may even pay."
1914: Hurtling to Earth like a meteor comes the Great Brain, a vampiric monster frantically determined to survive the end of his reign on Mars. Seizing the mind of a human, he inadvertently prevents a catastrophic World War, but transforms Earth into a dark, horror-filled planet with massive techno-cities and nightmarish technology.

1920: Irma Vep, the legendary cat-burglar of the Vampires, and her lover/partner, the fearsome being only known as the Eidolon, investigate a series of terrible murders that has shaken the city of Marseilles. Together, they face not only the powerful criminal empire of the Red Hand, but also demonic forces stirred by the Great Brain. The fate of the world, not to mention a little profit, lies in the balance!

Irma Vep, played by the lovely Musidora, was the star of Louis Feuillade's 1915 silent serial, Les Vampires. Frank Schildiner is the author of the Frankenstein and the Napoleon's Vampire Hunters series for Black Coat Press. This novel, the first in a new series, blends dystopic science fiction elements with characters created by legendary French author Gustave Le Rouge.