Journey to the Sun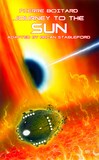 NOTE: YOU ARE PURCHASING AN E-BOOK, NOT A PAPER BOOK. WHEN ORDERING, PLEASE SPECIFY IN THE COMMENTS IF YOU PREFER A PDF OR AN EPUB FILE. THE FILE WILL BE E-MAILED TO YOU AS SOON AS PAYMENT IS RECEIVED.


JOURNEY TO THE SUN
by Pierre Boitard
adapted by Brian Stableford
cover by Jean-Pierre Normand

Scarcely had the demon finished speaking than we arrived on the surface of the Sun, a very lovely country, in truth, full of rarities that would be much appreciated by a collector of natural history...

In 1839, 25 years before Jules Verne, French botanist and geologist Pierre Boitard (1789-1859) published Journey to the Sun, the first story of adventure and scientific popularization for young people, depicting a voyage through the solar system, with the beings of each of the planets representing a different stage of Man's evolution.

Two years earlier, Boitard had published Paris Before Humankind, well before, well before the emergence of palaeontology; it was the first Darwinian narrative, including pre-historical ape-men.

Both of these ground-breaking novellas were at the time attempts to produce what would nowadays be called "hard science fiction": speculative fiction based on accurate scientific data.
Contents:
Voyage au Soleil (1838-40)
Paris Avant l'Homme (1837)
Introduction, Afterword and Notes by Brian Stableford.