Lost !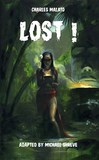 NOTE: YOU ARE PURCHASING AN E-BOOK, NOT A PAPER BOOK. WHEN ORDERING, PLEASE SPECIFY IN THE COMMENTS IF YOU PREFER A PDF OR AN EPUB FILE. THE FILE WILL BE E-MAILED TO YOU AS SOON AS PAYMENT IS RECEIVED.


LOST !
by Charles Malato
adapted by Michael Shreve
cover by Mike Hoffman

The moqqadem whistled a strange tune and the folds of his burnous parted: the heads of snakes peeked out, their squirming coils twisted around his chest and waist.
Charles Malato (1857–1938) was a notorious French anarchist and revolutionary once accused of plotting the 1905 assassination attempt against King Alfonso XIII of Spain. Malato was also a distinguished journalist and the author of exotic adventures serials such as Lost! (1915).

Forced to hide in the still unexplored regions of Morocco, political prisoner and escapee Antonio Perez is caught in the grips of the most unexpected and most extraordinary predicaments. Lost! is original because of its Moroccan setting and contains the standard devices of lost world novels, each one more extraordinary than the last, piling mystery upon mystery, peril upon peril, such as an usurped throne, an enemy priestess, trial by combat, precious treasures, an ill-fated romance, but with unusual, original twists.

Malato's heroes are not stereotypes, but subversive pariahs, marginal figures, escaping from society like Fantômas, Arsène Lupin and the real-life Bonnot Gang, bringing a radically different vision of the instability of the world around them.

This collection includes two other stories, The Rat and the Octopus, a Kanak Tale from New Caledonia (1885) and The Memoirs of a Gorilla (1901).


Contents:
- Lost! (Perdu au Maroc, c. 1915)
- Memoirs of a Gorilla (Les Mémoires d'un gorille, 1901)
- The Rat and the Octopus (from Contes néo-calédoniens, 1897)