Madame Atomos 3.2: The Return of Madame Atomos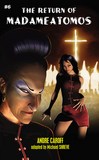 NOTE: YOU ARE PURCHASING AN E-BOOK, NOT A PAPER BOOK. WHEN ORDERING, PLEASE SPECIFY IN THE COMMENTS IF YOU PREFER A PDF OR AN EPUB FILE. THE FILE WILL BE E-MAILED TO YOU AS SOON AS PAYMENT IS RECEIVED.


THE RETURN OF MADAME ATOMOS
by André Caroff
adapted by Michael Shreve
cover by Jean-Michel Ponzio

Soblen thanded a letter to Beffort: "Please tell Mr. Beffort that he has not yet won. He has Mie Azusa, but only her body. I have her soul. Some day in the future she will become Miss Atomos again." Signed: Madame Atomos."
Beffort looked up. "It's a joke, isn't it? Madame Atomos is dead."
"It's her writing."
"Impossible! What about the body in San Francisco?"
"It's still there, but it's not Madame Atomos. If she's alive, she can't be dead!"


The deadly Madame Atomos is a brilliant but twisted Japanese scientist who is out to avenge herself against the United States for the bombings of Hiroshima and Nagasaki, where she lost her family. Opposing her are Smith Beffort of the FBI, Dr. Alan Soblen, and Yosho Akamatsu of the Japanese Secret Police.

This classic French sci-fi thriller series from the 1960s is presented here in English for the first time in a ten-volume omnibus edition:
Contents:
- The Return of Madame Atomos [Le Retour de Mme Atomos] (1966)
- The Atomos Affair (short story by Win Scott Eckert)

Miss Atomos' betrayal after falling in love with Smith Beffort heralds the return of the sinister Madame Atomos -- deadlier than ever!