Magical Tales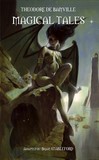 NOTE: YOU ARE PURCHASING AN E-BOOK, NOT A PAPER BOOK. WHEN ORDERING, PLEASE SPECIFY IN THE COMMENTS IF YOU PREFER A PDF OR AN EPUB FILE. THE FILE WILL BE E-MAILED TO YOU AS SOON AS PAYMENT IS RECEIVED.
MAGICAL TALES
By Theodore de Banville
Introduced & Translated by Brian Stableford
Cover by Mike Hoffman
Lovers huddled in your nest,
Ladies and lyrical poets
I salute you; here goes west
The book of Magical Tales.

The fifty stories by Théodore de Banville (1823-1891) making up this volume were originally published in the daily newspaper Gil Blas between November 1880 and October 1881.

They represented a reinvention of the subgenre of the contes de fées, although they were substantially different from the classic works of Madame d'Aulnoy, Comtesse de Murat, etc.

The tone of the stories covered a wide spectrum, ranging from farce to horror and wry moralistic tales, occasionally featuring demons, figures from Classical mythology, vampires, witches and even the Wandering Jew.

Banville can be seen here a significant precursor of surrealism, having influenced such writers as Alfred Jarry. Most of the stories gathered here have a definite panache, and the best of them are highly effective. More importantly, the whole is greater than the sum of its parts, a peculiar masterpiece, which fully entitles this collection to be considered as a classic of fantastic literature.


CONTENTS
Introduction
The Figurante
The Pompier
Georgette and Zozo
The Musicians
Portrait Sitting
The Little Actor
The Rag-Picker
Thief of Fire
A Good Day's Work
The Hubertines
The Last Ball
The Lydian Woman
Interval
Never Too Late
A Meissonier
The Blue Diamond
An Old Vaudevilliste
A Stepmother
The Gray Moths
Pierrot's Eight Sous
The Parodist
The Amethyst Ring
The Renegade
The Green Files
The Swan
The Stupefied Guest
Theater Column
Perfect Love
A Parisian Chronicle
Chez Brébant
The Fays
Breloque
The Water-Drinkers
The Souls
An Amateur
The Alibi
Riquette à la Houppe
Carabosse
Scenario
The Hunchbacked Child
Gallant Promenade
The Philter
The History of a Reign
The Jew
The Woman
The Good Minister
An Episodic Role
A Literary Debut
Mademoiselle Agathe
Rue de l Éperon