Monsieur Lecoq 2: The Honor of the Name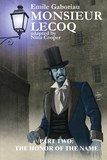 NOTE: YOU ARE PURCHASING AN E-BOOK, NOT A PAPER BOOK. WHEN ORDERING, PLEASE SPECIFY IN THE COMMENTS IF YOU PREFER A PDF OR AN EPUB FILE. THE FILE WILL BE E-MAILED TO YOU AS SOON AS PAYMENT IS RECEIVED.


MONSIEUR LECOQ 2: THE HONOR OF THE NAME
by Emile Gaboriau
adapted by Nina Cooper
cover by Patrick Dumas

"I don't have anything to tell you," said Old Man Absinthe, without removing the pipe clenched between his teeth. "Everybody knows I'm too stupid, but Monsieur Lecoq certainly can tell you a story you don't expect."

After a fight in a seedy bar leaves three men dead, the police arrest a man who claims to be a circus performer. But a young detective named Lecoq suspects the man isn't who he claims to be, and that there is more at stake than meets the eye…

Written in 1869, Monsieur Lecoq is not only a thrilling battle of wits between sleuth and suspect, but also the dramatic tale of three powerful families trapped in a web of political intrigue and murder during the troubled times that followed the fall of Napoleon and the restoration of the French Monarchy.

Emile Gaboriau, Paul Féval's former secretary, penned here a masterpiece, a novel that is both the suspenseful story of the French Sûreté detective's first case, but also a moving tragedy of greed and revenge.
Nina Cooper holds a Ph. D. in contemporary French literature from the University of Texas at Austin. She has done work on the plays of Gabriel Marcel and Jean-Paul Sartre, as well as on the short stories of Julien Green.
This book also includes a biography of Lecoq by popular literature scholar Rick Lai.
Contents:
Monsieur Lecoq (1869) by Emile Gaboriau
Introduction by Nina Cooper
Afterword: The biography of M. Lecoq by Rick Lai