The Angel of Lust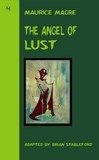 NOTE: YOU ARE PURCHASING AN E-BOOK, NOT A PAPER BOOK. WHEN ORDERING, PLEASE SPECIFY IN THE COMMENTS IF YOU PREFER A PDF OR AN EPUB FILE. THE FILE WILL BE E-MAILED TO YOU AS SOON AS PAYMENT IS RECEIVED.


THE ANGEL OF LUST & OTHER STORIES
by Maurice Magre
adapted by Brian Stableford
cover by Mike Hoffman
Men of elevated spirituality are incarnated in certain periods to preach philosophies and found religions. But there are others whose mission is to drive humankind back, others who have an abstract love of evil, entirely pure evil...


Maurice Magre (1877-1941) was one of the most far-ranging and extravagant French writers of fantastic fiction in the first half of the 20th century, and perhaps the finest of them, because of the fertility and versatility of his imagination and the manner and purpose for which he deployed it.

This volume, the fourth of a series of twelve dedicated to Magre's works, offers the novella, The Love Life of Messalina (1925), in which the eponymous character is possessed by a version of the god Priapus, and becomes an incarnation of lust, and the novel The Angel of Lust (1926), a violent melodrama about a great conflict between rival fraternities dedicated to good and evil.

In it, Isabelle, the daughter of a Castilian nobleman once sold as a slave by the raiders of Granada, uses magic to seduce the scholar Almazan away from the studies that he has commenced with Rosenkreutz, despite the threat of assassins dispatched by Tomas de Torquemada to murder the freethinkers of Europe.


Contents:
La Vie amoureuse de Messaline [The Love Life of Messalina, 1925]
La Luxure de Grenade [The Angel of Lust, 1926]
Christian Rosenkreutz et les Rose-croix [Christian Rosenkreutz and the Rosicrucians, 1930]
Introduction, Afterword and Notes by Brian Stableford.