The Ark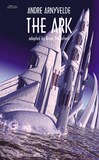 NOTE: YOU ARE PURCHASING AN E-BOOK, NOT A PAPER BOOK. WHEN ORDERING, PLEASE SPECIFY IN THE COMMENTS IF YOU PREFER A PDF OR AN EPUB FILE. THE FILE WILL BE E-MAILED TO YOU AS SOON AS PAYMENT IS RECEIVED.


THE ARK
by Arnyvelde
adapted by Brian Stableford
cover by Jean-Félix Lyon

And this will be the Ark that I shall construct, and which will protect us through the second deluge, unleashed by the entire earth.

Contents:
Introduction and Notes by Brian Stableford
THE KING OF GALADE [Le Roi de Galade] (1910)
THE ARK [L'Arche] (1920)


The King of Galade (1910) is a fantasy in which the eponymous hero emerges from his idyllic valley kingdom, surrounded by seemingly insurmountable mountains, to explore the outside world and investigate its wonders and vicissitudes.

The Ark (1920) was begun shortly after the author was conscripted during the Great War and finished after he was demobilized. A deliberately extravagant fantasy, it is a psychological Ark meant to carry him through the Deluge of the war, permitting him-as long as he avoids being killed-to endure the devastation of his personal happy valley.