The Bacheloress (Monique #1)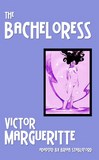 NOTE: YOU ARE PURCHASING AN E-BOOK, NOT A PAPER BOOK. WHEN ORDERING, PLEASE SPECIFY IN THE COMMENTS IF YOU PREFER A PDF OR AN EPUB FILE. THE FILE WILL BE E-MAILED TO YOU AS SOON AS PAYMENT IS RECEIVED.


THE BACHELORESS
Victor Margueritte's MONIQUE trilogy (aka: Women in Progress) #1
Cover by Mike Hoffman
adapted by Brian Stableford

Not content with execrating those he knew to have enjoyed Monique, he wanted to know the names of all the others who had possessed her flesh before him. No matter how much he felt that he was its master, he could not tolerate that it had quivered beneath so many mouths before his.



Monique is an emancipated French woman who leaves home to escape a marriage of convenience to a man whom her parents have forced on her. She then succumbs to all sorts of carnal temptations including a lesbian love affair with a singer.

The scandal provoked by Victor Margueritte's La Garçonne (1922), here translated as The Bacheloress, led to its author having his légion d'honneur revoked, which only propelled this novel about a brazenly independent "new woman" to best-seller status.

What was shocking then was not so much the reckless behavior of its heroine, who is depicted as the victim of psychological torment, but the portrait of the corrupt post-WWI society in which she lives. Authentic as Monique is, the types of love she encounters, set against the hostile and contemptuous portrayal of her peers, only amplifies her struggle.

La Garçonne was translated in the U.S. in 1923 as The Bachelor Girl in a bowdlerized edition, since the passages describing various sexual acts that had caused offence in Paris could not be reproduced in America, so the present edition is the first unexpurgated English-language edition.

The story was filmed four times, in 1923, 1936 (with Marie Bell and Edith Piaf), 1957 and again in 1988.