The Blood of Toulouse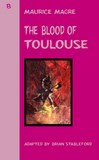 NOTE: YOU ARE PURCHASING AN E-BOOK, NOT A PAPER BOOK. WHEN ORDERING, PLEASE SPECIFY IN THE COMMENTS IF YOU PREFER A PDF OR AN EPUB FILE. THE FILE WILL BE E-MAILED TO YOU AS SOON AS PAYMENT IS RECEIVED.


THE BLOOD OF TOULOUSE
by Maurice Magre
adapted by Brian Stableford
cover by Mike Hoffman
He was carrying on him the emerald wrapped in animal hide in the middle of which I had seen a few red droplets trembling. "It's the blood of Jesus Christ," he told me.

Maurice Magre (1877-1941) was one of the most far-ranging and extravagant French writers of fantastic fiction in the first half of the 20th century, and perhaps the finest of them, because of the fertility and versatility of his imagination and the manner and purpose for which he deployed it.

This volume is the eighth of a series of twelve dedicated to Magre's works. In The Blood of Toulouse (1931), Dalmas Rochemaure, son of a cathedral-builder, embarks on the sacred mission to preserve Occitania from the armies of French invaders hell-bent of exterminating the Cathar heresy.

The young equerry of the count of Toulouse faces unending combats and carnage, saving the most precious treasure from the ashes of the tragic pyre of Montsegur.

The Blood of Toulouse is dramatic and poignant, full of verve and intensity, ending with a memorable flamboyant finish; it remains Magre's finest achievement, as well as his most celebrated.


Contents:
Le Sang de Toulouse [The Blood of Toulouse, 1931]
Le Maître inconnu des Albigeois[The Secret Master of the Albigensians, 1930]
Introduction, Afterword and Notes by Brian Stableford.