The Bride of the Sun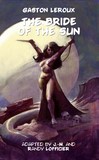 NOTE: YOU ARE PURCHASING AN E-BOOK, NOT A PAPER BOOK. WHEN ORDERING, PLEASE SPECIFY IN THE COMMENTS IF YOU PREFER A PDF OR AN EPUB FILE. THE FILE WILL BE E-MAILED TO YOU AS SOON AS PAYMENT IS RECEIVED.
THE BRIDE OF THE SUN
by Gaston Leroux
Adapted by Jean-Marc & Randy Lofficier
Cover by Mike Hoffman
None but the appointed may touch the Bride of the Sun, and the three guardians of the Temple were there, armed, and swaying gently.



Young engineer Raymond Ozoux, accompanied by his uncle, arrives in Peru to meet his fiancée, Marie-Thérèse. Meanwhile, descendents of the Incas are preparing a great feast during which a virgin will be sacrificed to the Sun, walled up alive in a secret temple. At the same time, a mysterious Inca bracelet is sent to Marie-Thérèse purporting to be a gift of the Sun to his future bride… The young girl is then kidnapped by the Incas and Raymond, his uncle and Marie-Thérèse's father set out on a trek across Peru to free her while a revolution shakes the country...
A suspenseful thriller in the vein of H. Rider Haggard by the creator of Rouletabille and the Phantom of the Opera.

CONTENTS:
Introduction
L'Épouse du Soleil (1912)