The Complete Adventures of Judith Lee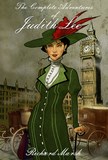 NOTE: YOU ARE PURCHASING AN E-BOOK, NOT A PAPER BOOK. WHEN ORDERING, PLEASE SPECIFY IN THE COMMENTS IF YOU PREFER A PDF OR AN EPUB FILE. THE FILE WILL BE E-MAILED TO YOU AS SOON AS PAYMENT IS RECEIVED.
THE COMPLETE ADVENTURES OF JUDITH LEE
by Richard Marsh
edited by Jean-Daniel Brèque
cover by Arnaud Hascoët

My name is Judith Lee. I am a teacher of the deaf and dumb. I teach them by what is called the oral system-that is, the lip-reading system. I must have a special sort of knack in that direction, because I do not remember a time when, by merely watching people speaking at a distance, no matter at what distance if I could see them clearly, I did not know what they were saying. This knack of mine is almost equivalent to another sense. It has led me into the most singular situations, and it has been the cause of many really extraordinary adventures...

There were several notable women detectives in 19th century popular literature, such as Baroness Orczy's Lady Molly and George R. Sims' Dorcas Dene, but Richard Marsh's Judith Lee is unique and amongst the best.

Her stories are forgotten classics of mystery fiction. Like his illustrious model, Arthur Conan Doyle, Richard Marsh relied on strongly-plotted yarns and a memorable hero: a lip-reading young woman with the busybody nature of a Miss Marple and the jujitsu knowledge of a Sherlock Holmes, facing a variety of dastardly devils, damsels in distress, cads and shady sportsmen.

The Judith Lee stories were published to great acclaim in The Strand Magazine starting in 1911 and were first collected in book form in 1912. Their creator, Richard Marsh (1857-1915), was a British author best remembered for his 1897 supernatural thriller The Beetle. He was still writing Judith Lee stories when he passed away, and his widow issued a final collection in 1916. This omnibus volume includes both collections, as well as a never reprinted story from 1916.
Contents:
Introduction by Jean-Daniel Brèque
Book One: Judith Lee: Some Pages from Her Life
The Man Who Cut Off My Hair
Eavesdropping at Interlaken
Conscience
Matched
The Miracle
"Auld Lang Syne"
Isolda
Was It by Chance Only?
Uncle Jack
Mandragora
"8 Elm Grove-Back Entrance"
The Restaurant Napolitain
Interlude: The Barnes Mystery
Book Two: The Adventures of Judith Lee
My Partner for a Waltz
Curare
Lady Beatrice
The Finchley Puzzle
Two Words
The Glass Panels
The Clarke Case
The Affair of the Montagu Diamonds
On Two Trains
Sources