The Day Before Tomorrow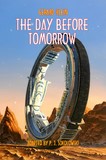 NOTE: YOU ARE PURCHASING AN E-BOOK, NOT A PAPER BOOK. WHEN ORDERING, PLEASE SPECIFY IN THE COMMENTS IF YOU PREFER A PDF OR AN EPUB FILE. THE FILE WILL BE E-MAILED TO YOU AS SOON AS PAYMENT IS RECEIVED.


THE DAY BEFORE TOMORROW
by Gérard Klein
adapted by P.J. Sokolowski
cover by Manchu
The Federation considered itself a Utopia; the worlds under its sway were guaranteed stability by virtue of the time-changers. For whenever a historian located evidence in the past that a newfound planet might evolve into a threat, a team would be sent to tamper with its history. But the seven men that went to Ygone encountered a fate no one had ever projected. They met with a strangely peaceful culture they could not fathom... Gérard Klein is a distinguished economist and one of France's best science fiction writers. He also edited the prestigious science fiction imprint, Ailleurs et Demain, for 40 years. Foreword by Robert Silverberg. This new edition also contains two additional short stories that have never before been translated.


Contents:
- Introduction by Jean-Marc Lofficier
- The Day Before Tomorrow [Le Temps n'a pas d'odeur] (1963); transl. by P.J. Sokolowski
- Civilization 2190 (1956); transl. by J.-M. & Randy Lofficier
- Full Stop [Point Final] (1956) tranl. by J.-M. & Randy Lofficier