The Exploits of Professor Tornada (Vol. 1)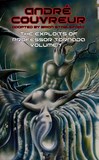 NOTE: YOU ARE PURCHASING AN E-BOOK, NOT A PAPER BOOK. WHEN ORDERING, PLEASE SPECIFY IN THE COMMENTS IF YOU PREFER A PDF OR AN EPUB FILE. THE FILE WILL BE E-MAILED TO YOU AS SOON AS PAYMENT IS RECEIVED.


THE EXPLOITS OF PROFESSOR TORNADA - VOLUME 1
by André Couvreur
adapted by Brian Stableford
cover by Mandy

André Couvreur (1865-1944) was a medical doctor who penned several medical treatises, and was also the author of eight romans scientifiques dealing with "medical concepts" featuring the mad scientists Doctor Caresco, then Professor Tornada. These are collected in a series of five volumes, translated and annotated by Brian Stableford, presenting for the first time the ground-breaking works of this pioneer of French science fiction.

"Couvreur's works are unusually exotic, and unparalleled in the history of imaginative fiction." Brian Stableford.
Climbing on to a heap of rubble, I saw them in the distance, coming out one by one from the vast hall, which they had doubtless adopted as a lair, where they must have been lurking like dogs in a kennel after breaking down the doors. They were coming, crawling, raising their tentacles, roaring, their frightful gray mass scarcely impeded by the border of rubble.

In An Invasion of Macrobes (1909), Professor Tornada, unhinged by the death of his wife and daughter, and unable to withstand the blow of having been rejected by the French Academy, unleashes giant, flesh-eating bacteria, immune to the assaults of artillery and high explosives, on Paris, intent on smashing it flat. In the ground-breaking The Androgyne (1922), Tornada turns a man into a woman.