The Master of Light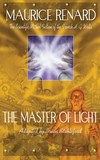 NOTE: YOU ARE PURCHASING AN E-BOOK, NOT A PAPER BOOK. WHEN ORDERING, PLEASE SPECIFY IN THE COMMENTS IF YOU PREFER A PDF OR AN EPUB FILE. THE FILE WILL BE E-MAILED TO YOU AS SOON AS PAYMENT IS RECEIVED.


THE MASTER OF LIGHT
by Maurice Renard
adapted by Brian Stableford
cover by Gilles Francescano

"Here are two very singular panes of glass," said Charles, pointing to the left-hand half of the window. When one looks through them from within, one sees the garden as it was before 1860. And when one looks through these windows from outside, one sees the room as it was before 1829, the year when my ancestor César Christiani left Silaz, never to return."

Contents:
- The Master of Light (Le Maître de la Lumière, 1933)
Introduction and Afterword by Brian Stableford.

Often hailed as the best French science fiction writer of the early 20th century, Maurice Renard coined the term "Scientific Marvel Fiction" to pen a series of gripping, ground-breaking stories that owe as much to Edgar Allan Poe as they do to H.-G. Wells. Until now, Renard was best known to the English-speaking public for his thrice-filmed thriller, The Hands of Orlac.

This is a series of five volumes, translated and annotated by Brian Stableford, devoted to presenting the classic works of this pioneering giant of French science fiction.


The Master of Light (1933), anticipating Bob Shaw's notorious "slow glass" concept, is the tales of a vendetta and a murder mystery solved thanks to luminite, a glass-like substance which slows down light as it passes through, and through which one can actually witness the past.