The Mysteries of Tomorrow Omnibus (All 5 volumes)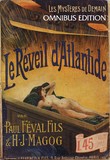 NOTE: YOU ARE PURCHASING AN E-BOOK, NOT A PAPER BOOK. WHEN ORDERING, PLEASE SPECIFY IN THE COMMENTS IF YOU PREFER A PDF OR AN EPUB FILE. THE FILE WILL BE E-MAILED TO YOU AS SOON AS PAYMENT IS RECEIVED.
THE MYSTERIES OF TOMORROW
By Paul Féval,
fils
& H.J. Magog
Translated by Brian Stableford
Cover by Mike Hoffman
Written in collaboration in 1922 by the author of Felifax, this five-volume saga (of which this is the first), purporting to chronicle the early years of the 21st century, takes place in a quasi-utopia-like Earth, where war no longer exists, poverty has been banished, men no longer consume meat, and, thanks to the genius of master scientist Oronius, humanity has mastered natural forces.

However, there exists a snake in this garden of Eden: Oronius' former colleague Otto Hentzen, a mad scientist who has allied himself with the beautiful, deadly enchantress Yogha. From their impregnable citadel located atop Mount Everest, they wish to crush the world and rule it.
(VOLUME 1): THE FIANCES OF THE YEAR 2000
Will Oronius' pupil, Jean Chapuis, his fiancée Cyprienne, Oronius' own daughter, ably assisted by his mechanic Laridon, her maid Turlurette, and their African manservant Julep, prove able to thwart the evil duo's diabolical schemes?
THE MYSTERIES OF TOMORROW (VOLUME 2): THE WORLD OF THE DAMNED
The quest to find Oronius will take his friends into a vast, underground realm inhabited by giant vampire bats and homunculi who worship the great scientist as their god. But their foes push the subterrans to rebel. Will Oronius, his allies and his robots, be enough to defeat the diabolical Hantzen? Will they escape giant moles, the sea of gold and the central fire and reach the surface again in order to stop an invasion from the Center of the Earth?
THE MYSTERIES OF TOMORROW (VOLUME 3): THE AWAKENING OF ATLANTIS
Otto Hentzen unleashes a worldwide cataclysmic radioactive heat wave that dries up most of the oceans and awakens the ancient continent of Atlantis. Unfortunately, it is a savage world of cannibal warriors and monsters, ruled by the cruel Queen Atlantea, the incarnation of all twelve Queens of Atlantis…

THE MYSTERIES OF TOMORROW (VOLUME 4): HUMANKIND ENCHAINED
After the worldwide cataclysm that devastated the Earth, Oronius and his friends discover an advanced civilization of giant insects long buried in Antarctica. The Polars, aided by Hantzen and Yogha, launch an attack against Humanity, increasing the intelligence of animals, who then rebel and enslave mankind, turning the world into a "Planet of the Beasts." Oronius eventually escape from his enemies and enlists the help of the United States to fight the giant insects…

THE MYSTERIES OF TOMORROW (VOLUME 5): THE MAKER OF MADWOMEN
This time, the diabolical Hantzen, who has insidiously taken over another country under the alias of Professor Astaroth, Satan's Rival, plots to unleash a pandemic of madness on the women of the world. It is up to Oronius' faithful and resourceful servants, mechanic Victor Laridon, chambermaid Turlurette, and jack of all trades Julep, to thwart the demoniacal scientist…

CONTENTS:
Introduction
Les Fiancés de l'an 2000 (Ferenczi, 1922)
Le Monde des Damnés ( Ferenczi, 1923)
Le Réveil d'Atlantide ( Ferenczi, 1923)
L'Humanité Enchaînée ( Ferenczi, 1923)
Le Faiseur de Folles ( Ferenczi, 1924)
The Automaton (Le Matin, 1932) (by H.J. Magog adapted by J.-M. & Randy Lofficier)
The Stegosaurus (Le Matin, 1935) (by H.J. Magog adapted by J.-M. & Randy Lofficier)