The Night Orchid: Conan Doyle in Toulouse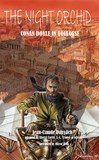 NOTE: YOU ARE PURCHASING AN E-BOOK, NOT A PAPER BOOK. WHEN ORDERING, PLEASE SPECIFY IN THE COMMENTS IF YOU PREFER A PDF OR AN EPUB FILE. THE FILE WILL BE E-MAILED TO YOU AS SOON AS PAYMENT IS RECEIVED.


THE NIGHT ORCHID: CONAN DOYLE IN TOULOUSE
by Jean-Claude Dunyach
adapted by Sheryl Curtis, Jean-Louis Trudel & others
foreword by David Brin
cover by Gilles Francescano

14 stories including 6 never before translated, featuring Unravelling the Thread selected in Year's Best Science Fiction of 1999 and Watch Me When I Sleep included in Year's Best Fantasy and Horror of 2002. "One of the most talented imaginations living today... Feast upon the imagination of Dunyach." - David Brin.

* Arthur Conan Doyle takes Professor Challenger to the South of France to meet Professor Picard, Irene Adler and a horror from the ancient past. ("A treat... read it and grin," Tangent Online)
* What extraordinary secrets lie in the weave of an ancient carpet? (Voted Best Story of 1998, Interzone; "particularly strong," scifi.com.)
* A young boy accidentally swallows a fairy. ("An intriguing glimpse into a different world," BestSF.net; "A disturbing fairy tale," Strange Horizons.)
* Mysterious cocoons fall to Earth, bringing alien revelations. ("Vivid and engaging," Tangent Online.)
* What do corpses do to other corpses at night? ("Gripping... disquieting," Tangent Online.)
* In cyberspace all intelligences are edible. ("Worthy of Philip K. Dick," Mauvais Genres.)
* In a time when murder is punished by total memory wipe, a man sets out to create a cadre of assassins.

Contents:
Foreword by David Brin
The Night Orchid
The Parliament of Birds
Scenes at the Exhibit
Time, as it evaporates...
Shark
Unravelling the Thread
Watch Me When I Sleep
In Medicis Gardens
Footprints in the Snow
Station of the Lamb
All the Roads to Heaven
Time for Worms
Useless Nights
The Sand Swimmers
Afterword by J.-C. Dunyach
READ THE REVIEWS...
Jean-Claude Dunyach [is] one of the best French science fiction writers around. And this Spring saw the publication of his first English-language collection, THE NIGHT ORCHID, with translations by Sheryl Curtis, Jean-Louis Trudel, Dominique Bennett and Ann Cale, an introduction by David Brin and a stunning cover by Gilles Francescano... Useless Nights, is translated here, along with what is perhaps Jean-Claude is most famous one, Unravelling the Thread. First published in the French magazine GALAXIES, it was read by Brian Stableford, who liked it enough to recommend it to the British magazine INTERZONE, where it was subsequently published and voted best story of the year by the readers. Since INTERZONE is read the world over, a lot of people who don't read French could discover and appreciate this story, including David G. Hartwell, who reprinted it in YEAR'S BEST SF 4, and it has now been translated into several languages. Unravelling the Thread is Dunyach in his quiet, allusive mood, but a sampling of this collection will show you he can tackle any subject, any tone. "Shark" is a chilling cyberpunk tale; The Night Orchid is an alternate-history romp, with Sir Arthur Conan Doyle and Professor Challenger fighting a prehistoric monster in and above Toulouse; Time for Worm is a no-holds-barred horror story; Watch Me When I Sleep is a strange fairy tale; and I could go on like this for a long time. For all of you out there who don't read French and are willing to try something different, check this one out.
Jean-Daniel Breque
Dan Simmons' Site

With stories translated on both sides of the Atlantic in Interzone, On Spec, and the Year's Best sf and fantasy/horror sequences, Jean-Claude Dunyach is possibly the contemporary French sf writer best known to an English-speaking audience. This first English collection includes fourteen stories of which six have never been translated before, and shows Dunyach to be a writer of remarkable range....The Night Orchid is one of the most successful single-author collections I've read for some time and the attention given to some of the stories is well-deserved.
Andy Sawyer
The Alien Online

This book in particular is a definite must read for science fiction fans hungry for a read where wonder and the imagination are still acceptable. Not everything has to be a doom and gloom future and it is nice once again to read a work that sees the positives.
Kevin Tipple
Epinions
Blether

If you've been following Interzone over the past few years, you've surely encountered the amazing stories of French writer (and aeronautical engineer) Jean-Claude Dunyach. If you haven't been so lucky, now's your chance to acquaint yourself with his work, in the form of The Night Orchid. This collection assembles fourteen of his tales, six of which have never been rendered into English before. (The four translators–Sheryl Curtis, Jean-Louis Trudel, Dominique Bennett, and Ann Cale do a marvelous, seamless job, by the way.) Here you'll read about Professor Challenger battling pterodactyls in France (the title story); six juvenile killers who turn on their mentor ("The Parliament of Birds"); an artist whose medium is "slices of time" ("Scenes at the Exhibit"); and a colony of aliens stranded on Earth, who meet yearly for a strange ritual ("Footprints in the Snow"). And this merely cites four wonderful examples. Dunyach at various times evokes comparisons to Ballard, Lem, van Vogt, Zivkovic, or Gibson, but is always recognizably his own unique self. In my favorite story, "Watch Over Me When I Sleep," a shepherd boy swallows a fairy and finds his life forever blighted. George MacDonald himself could not have written a more transcendent fable.
Paul di Filippo
Asimov's

The Night Orchid: Conan Doyle in Toulouse by Jean-Claude Dunyach, with a foreword by David Brin. The work of the award-winning French science-fiction writer is not unknown to the cognoscenti, but it's good to have fourteen of his best stories in an attractive collection. Only the title story is really relevant here, involving as it does both Arthur Conan Doyle and the young George Edward Challenger in a thrilling encounter with a monster from the distant past. There's also a beautiful and brave young woman named Irène Ader [*sic*] and a flying machine. All this in the French city of Toulouse! It's a story that would not have been out of place in The Strand Magazine a hundred years ago. One quibble: the description of Conan Doyle suggests an older man than the thirty-one-year-old he was in 1890.
The District Messenger

FIVE STARS ON AMAZON

Dunyach has had some of his short fiction appear in Interzone. Each of these stories has been of a high quality, and this story is no exception. It has one of those rare settings which will stick in the mind : a Muslim town in a valley has been saved from a global calamity as there is in effect a pool of time which has been captured by the the mountains on all sides. However, as time gradully evaporates, the depth of this 'lake' is gradually reducing and they can see the surface gradually moving down towards them. Stories like this really are a wake up call, IMHO, to a lot of SF (for example the Hapthorne/Coyote series mentioned above).
Mark Watson
Year's Best SF