The Polarian-Denebian War 5: Our Ancestors from the Future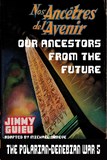 NOTE: YOU ARE PURCHASING AN E-BOOK, NOT A PAPER BOOK. WHEN ORDERING, PLEASE SPECIFY IN THE COMMENTS IF YOU PREFER A PDF OR AN EPUB FILE. THE FILE WILL BE E-MAILED TO YOU AS SOON AS PAYMENT IS RECEIVED.


THE POLARIAN-DENEBIAN WAR 5. OUR ANCESTORS FROM THE FUTURE
by Jimmy Guieu
adapted by Michael Shreve
cover by Brantonne

Henri-René "Jimmy" Guieu (1926-2000) was one of the leading French SF authors of the 1950s and 60s, before he turned to the exploration of UFOs and parapsychological phenomena. In this classic six-volume saga (presented in English in two volumes), written in 1954 through 1956, Guieu introduced his signature hero, French paleoanthropologist Jean Kariven, and imagined that Earth was secretly caught in a vast space-time war pitting the benevolent Polarians against the aggressive Denebians. Guieu sprinkled the books with some of his favorite themes, such as UFOs, alien encounters and ancient astronauts, while delivering fast-paced SF adventure.
In the fifth volume of the series, Jean Kariven explores the secret origins of the Polarian influence in earth's History.
Contents:
5. Nos Ancêtres de l'Avenir (1956)