The Second Life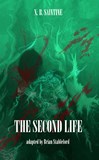 NOTE: YOU ARE PURCHASING AN E-BOOK, NOT A PAPER BOOK. WHEN ORDERING, PLEASE SPECIFY IN THE COMMENTS IF YOU PREFER A PDF OR AN EPUB FILE. THE FILE WILL BE E-MAILED TO YOU AS SOON AS PAYMENT IS RECEIVED.


THE SECOND LIFE
by X.B. Saintine
adapted by Brian Stableford
cover by Mandy

Since my famous affair with number 17 in the amphitheater of the Charité, I had been much preoccupied with hallucinations, and, having concluded my medical studies. I chose as the subject of my thesis hallucinations provoked by the ingestion of certain vegetables.
X. B. Saintine (1978-1865) was a prolific dramatist who collaborated in more than 200 plays with Eugène Scribe and a noted figure of the Romantic Movement.

The Second Life (1864) was Saintine's swan song. This collection of fictitious dreams, hallucinations and metaphysical fantasies examine the nature of dreaming from a viewpoint infused by contemporary psychological science, when the phenomena of dreams and hallucinations had begun to attract serious attention, but had not yet reduced to Freudian analyses. The Second Life is a remarkable book, as much in its self-indulgence as in its strangeness, covering a remarkably wide spectrum, while always retaining a firm moral anchorage. It is one of the finest and most ambitious 19th century extensions of the tradition of contes philosophiques.


Contents:
La Seconde Vie (1864)
Introduction and Notes by Brian Stableford.