The Secret of Zippelius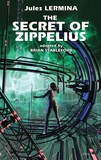 NOTE: YOU ARE PURCHASING AN E-BOOK, NOT A PAPER BOOK. WHEN ORDERING, PLEASE SPECIFY IN THE COMMENTS IF YOU PREFER A PDF OR AN EPUB FILE. THE FILE WILL BE E-MAILED TO YOU AS SOON AS PAYMENT IS RECEIVED.


THE SECRET OF ZIPPELIUS
by Jules Lermina
adapted by Brian Stableford
cover by Jean-Felix Lyon

I, Jean-Martin Zippelius, have completed the work. What have I found? A simple chemical formula. Armed with that, the humblest of operators can accomplish the work that took me ten years to perfect. It might be that possession of that secret, which has already cost the lives of two Zippeliuses will kill me as it killed both of them... Why do I not surrender it? Why do I not communicate it to some Academy ? Haven't you understood yet? I tell you that it is a deadly secret--more than that, it is the secret of death: the death of men, things and worlds alike…


Jules Lermina (1839-1915), the author of Mysteryville, Panic in Paris and To-Ho and the Gold Destroyers, was one of the most interesting authors of French romans scientifiques in the latter part of the 19th century.

This collection includes The Nail (1870), featuring a prodigious detective predating Sherlock Holmes by 20 years, the classic Burn This! (1888), a novella in the vein of Bulwer-Lytton and Talbot Mundy, in which a young Parisian gifted with superhuman mental powers encounters a mysterious Hindu secret society that has inherited the occult science of ancient Atlantis, and the eponymous novella (1893), in which young Conrad Zippelius receives a letter about a mysterious inheritance from a distant relative, one that comes with a secret that could destroy the world!

Contents:
A SPIDER'S REVENGE [La Vengeance d'une araignée] (1861)
THE DEAD WOMAN'S FINGER [Le Doigt de la morte] (1869)
THE LUNATICS [Les Fous] (1869)
THE NAIL [Le Clou] (1870)
THE TITANESS [Titane] (1885)
RUNNING-FLIGHT [Course-vol] (1887)
BURN THIS [À brûler, conte astral] (1888)
THE ZIPPELIUS SECRET [Le Secret des Zippelius] (1893)
Introduction and Notes by Brian Stableford.