The Vampire and The Devil's Son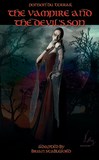 NOTE: YOU ARE PURCHASING AN E-BOOK, NOT A PAPER BOOK. WHEN ORDERING, PLEASE SPECIFY IN THE COMMENTS IF YOU PREFER A PDF OR AN EPUB FILE. THE FILE WILL BE E-MAILED TO YOU AS SOON AS PAYMENT IS RECEIVED.


THE VAMPIRE AND THE DEVIL'S SON
by P.-A. Ponson du Terrail
adapted by Brian Stableford
cover by Nathalie Lial

The Black Huntsman who never rests. With his whip in his hand from dawn to dusk, Following the hunt with his horn to his mouth, There'll be deaths in the manor by morning!

"I believe," the dead woman said, "that there is no need to explain to you by means of a lie how it comes about that, ten years after my death, I have such supple flesh, such rounded arms, and a neck so pink and white. You can see that I am a vampire..."

1723. The fearless Baron de Nossac returns from a daring military mission in Eastern Europe when, crossing the forests of Bohemia, he is captured by the legendary Black Huntsman, a 900-year-old wraith who is none other than the Devil's own son. Held prisoner at the Hunstman's enchanted castle, the Baron is then seduced by a female vampire who resembles his dead wife.

Written in 1852 by the creator of Rocambole, The Vampire and the Devil's Son is a significant contribution to the development of modern horror fiction and a foreshadowing of literary things to come, bringing together for the first time two major modern archetypes: the seductive female vampire and the Son of the Devil.


Contents: La Baronne trépassée (1852) by Ponson du Terrail; Introduction, Afterword and Notes by Brian Stableford.