The Vengeance of the Oval Portrait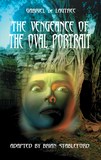 NOTE: YOU ARE PURCHASING AN E-BOOK, NOT A PAPER BOOK. WHEN ORDERING, PLEASE SPECIFY IN THE COMMENTS IF YOU PREFER A PDF OR AN EPUB FILE. THE FILE WILL BE E-MAILED TO YOU AS SOON AS PAYMENT IS RECEIVED.


THE VENGEANCE OF THE OVAL PORTRAIT
by Gabriel de Lautrec
adapted by Brian Stableford
cover by Jean-Michel Ponzio

The eyes took on a new and savage expression. Don Arias hesitated, astounded to see his dream realized. But the eyes became animated by a life even more intense. The arms of the portrait detached themselves from the dead, flat surface-and the woman's hand, seizing the dagger, brandished it and plunged it all the way to the hilt in the amorous man's throat.


The undisputed masterpiece of Gabriel de Lautrec (1867-1938), THE VENGEANCE OF THE OVAL PORTRAIT, which borrows its title from Edgar Allan Poe, is a collection of 28 stories at the crossroads of horror, fantasy and science fiction. Its singular inspiration owes as much to the author's predilection for dark humor, Grand Guignol and the mixing of genres, as it does to the influence of alcohol and hashish, which he used regularly.

De Lautrec was a disciple of Alphonse Allais and the winner of the 1920 Humorists' Award. While he hid behind a smiling mask, his troubled personality is on display in this series of mysterious and thrilling tales. Reviewers have compared them variedly to Mark Twain, Edgar Allan Poe, H. G. Wells and Maurice Renard.

Contents:
Introduction by Brian Stableford

THE VENGEANCE OF THE OVAL PORTRAIT (collection, 1922)
THE VENGEANCE OF THE OVAL PORTRAIT
SONIA'S SOUL
THE BURIAL OF OLASRYCK
THE SPELL
THE GREEN JAR
THE STORY OF THE DILIGENCE
NUMBER THIRTEEN
THE AMOROUS QUEEN
NIGHTMARE
FRAGMENT OF A TALE OF THE FUTURE
THE WALL
THE THREE COMPANIONS
THE WARNING
THE RED DIAMOND
THE VESTAL
IN THE NEXT WORLD….
A MACABRE WAGER
THE EVOCATION
ALICE'S STORY
A FAMILY MATTER
MONSIEUR CIBOIRE, INNKEEPER
EULOGY TO THE MOON
EXPIATION
POLAR TERROR
THE LOVER OF DEATH
THE OLD DEMON OF LEPROSY
THE TALISMAN

SELECTIONS FROM POEMS IN PROSE (Poèmes en prose, 1898)
GLORIOUS ACTION
AMBUSH
NOCTURNE
EMPEDOCLES' SANDAL
LATIN SYMBOLISM
THE SHADOW
THE MOURNERS

SELECTIONS FROM STORIES OF TOM JOE (Les Histoires de Tom Joë, 1920)
THE HAUNTED CHÂTEAU; or, THE ADULTEROUS VIRGIN
MONSIEUR HOUSE
THE SUBMARINE AIRPLANE
VOYAGE TO THE MOON
THE LOST REFLECTION
A CUBIST TALE