Astral Amour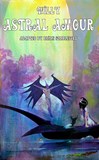 ASTRAL AMOUR
by Willy
adapted by Brian Stableford
cover by Mike Hoffman
US$21.95/GBP 12.99
5x8 tpb,260 pages
ISBN-13: 978-1-61227-563-5
"The alchemists of the Middle Ages fabricated homunculi; why shouldn't we, who've pored over the hermetic books of Nicolas Flamel and Cyliani, attempt to create a woman?"

Astral amour by Willy (Henry Gauthier-Villars, 1859-1931, Colette's husband) was originally published as an eight-part serial in the Nouvelle Revue between December 1900 and April 1901 and was never reprinted in book form.

As an account of the social and psychological aspects of the occult revival in the 19th century, Astral Amour does have the advantage of a unique originality. It is more a commentary on occult fantasy than an occult fantasy in its own right, although it is willing to use the fantastic as a casual literary device for the purpose of that examination. Neurocyme, the elemental woman given flesh by the novel's protagonists Enogat de Sothermès and Doctor Callidulus, is described by them as a mixture of illusion and irony—and the same alchemical combination applies to the text, which is simultaneously all illusion and all irony.
Contents:
Amour astral (1901)
Introduction, Afterword and Notes by Brian Stableford.