The Many Faces of Arsene Lupin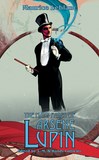 THE MANY FACES OF ARSENE LUPIN
by Maurice Leblanc & Others
edited by J-M. & R. Lofficier
cover by Daylon

"Esprit… élan… panache… gloire… How can one translate a single one of these words? They all mean one thing: Arsène Lupin. He is madness and wit and grace and Moon-touched audacity. He is the effrontery of the individual who dares oppose the State. He is the outrage of anarchy, the fallacy of individualism. And he refuses to die..."

US$22.95/GBP 14.99
6x9 tpb, 308 pages
ISBN-13: 978-1-61227-049-4
Arsène Lupin, the prodigious gentleman-burglar created in 1905 by Maurice Leblanc, has become an enduring myth who, like his counterpart and cherished foe, Sherlock Holmes, has inspired many pastiches over the years.

This collection offers two, never before translated Arsène Lupin tales by Maurice Leblanc, plus nineteen other stories, including five written especially for this volume.

A host of celebrated writers, such as Thomas Narcejac, the author of Diabolique and Alfred Hitchcock's Vertigo, Edgar- and Hugo-Award winner Anthony Boucher, French playwright André Mouëzy-Éon, Canadian science fiction author Jean-Louis Trudel, Belgian author Alain le Bussy, French author Xavier Mauméjean, and many others take Lupin from the shadowy Rue Morgue in Paris to the bustling streets of Saigon and the smoky dens of Casablanca.

Watch the indomitable gentleman-burglar use his gallic charm to cross swords with Sherlock Holmes, the Phantom of the Opera, vampires and nazis -- and even the Devil himself!
Contents:
Maurice Leblanc: The Emerald Cabochon (translated by J.-M. & R. Lofficier) (never translated before; c. 1928)
Maurice Leblanc & Francis de Croisset: The Return of Arsène Lupin (translated by Frank J. Morlock) (never translated before; c. 1907)

THE ANDRÉSY YEARS (1874-1899)
- André Mouëzy-Eon: Thief of Hearts (translated by Frank J. Morlock and JM & Randy Lofficier) (never translated before; 1913)
- Bradley H. Sinor: With Cat-Like Tread (new)

THE LUPIN YEARS (1900-1909)
- Thomas Narcejac: The Oliveira Affair (translated by Lawrence G. Blochman) (from Confidences dans ma Nuit, 1946)
- Jean-Marc Lofficier: Arsène Lupin's XMas (Previously published in Tales of the Shadowmen N°2)
- David L. Vineyard: The Jade Buddha (Previously published in Tales of the Shadowmen N°5)
- J.-M. & R. Lofficier: Arsène Lupin Arrives Too Late (previously published in The Blonde Phantom)
- J.-M. & R. Lofficier: The Unkindest Cut (previously published in The Blonde Phantom)

THE SERNINE YEARS (1910-1913)
- Matthew Dennion: The Price of a Favor (new)
- Xavier Mauméjean: Be Seeing You! (translated by Jean-Marc & Randy Lofficier) (Previously published in Tales of the Shadowmen N°2)
- Viviane Etrivert: The Three Jewish Horsemen (translated by Joan Bingham & J.-M. Lofficier) (Previously published in Tales of the Shadowmen N°1)
- Matthew Ilseman: A Theft of China (new)

THE PERENNA YEARS (1914-1922)
- Alain le Bussy: The Sainte-Geneviève Caper (translated by Alain le Bussy & J.-M. Lofficier) (Previously published in Tales of the Shadowmen N°1)
- Jess Nevins: A Jest, To Pass The Time (Previously published in Tales of the Shadowmen N°2)
- J.-M. & R. Lofficier: Escape Not The Thunderbolt (Previously published in The Hollow Needle)

THE LAST ADVENTURES (1924-1939)
- Jean-Louis Trudel: Legacies (Previously published in Tales of the Shadowmen N°2)
- Matthew Baugh: Ex Calce Liberatus (Previously published in Tales of the Shadowmen N°2)

THE FINAL YEARS (1940-?)
- Anthony Boucher: Arsène Lupin vs. Colonel Linnaus (Previously published in Ellery Queen's Mystery Magazine Vo. 5, No. 19, 1944)
- David L. Vineyard: The Children's Crusade (Previously published in Tales of the Shadowmen N°6)
- David L. Vineyard: The Last Jest of Arsène Lupin (new)