Double-Head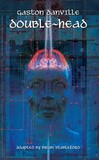 DOUBLE-HEAD
by Gaston Danville
Adapted by Brian Stableford
cover by Grillon
"You've talked about a doubling. You've also declared that you were in your room. I'm asking you in what form your double appeared to you, and in what fashion you recognized yourself in the seated person."

US$18.95/GBP 16.99
5x8 tpb, 164 pages
ISBN-13: 978-1-61227-912-1

Double-Head (1927) is a bold narrative about stock-market manipulation, extrapolating the notion of technologically-aided telepathy while detailing a quest to rediscover the alchemists' fabled philosopher's stone.

The novel is sufficiently innovative and intelligent to transcend its deliberately popular format, has considerable imaginative substance, and deserves to be reckoned a significant contribution to the genre.

It is an interesting addendum to the literary career of one of the most intriguing dabblers in imaginative fiction to emerge during the turbulent fin-de-siècle in France.


Introduction
Double-Tête (1927)