Edgar Allan Poe on Mars: The Further Memoirs of Gullivar Jones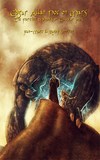 EDGAR ALLAN POE ON MARS
The Further Memoirs of Gullivar Jones
by Randy & Jean-Marc Lofficier
cover by Oliver & Stephane Peru

"If Montressor sent Ligeia back to Mars, that means that he must, at last, feel ready to challenge me," said Rodrik-Usher. "The only place where he can return is the Gate at the Pyramid of Kamor… Andrevar, go there and kill anyone who approaches it."
The Red Death nodded and strode away.

US$20.95/GBP 12.99
5x8 tpb, 260 pages
ISBN-10: 1-934543-09-8
ISBN-13: 978-1-934543-09-2

A legendary warrior from Mars' ancient past. A struggling young writer from 1827 Baltimore. Soon, cosmic events put in motion by the Enchanter Montressor and his ward Ligeia cause the two to meet. Gullivar Jones and Egar Allan Poe must then learn to work together, if they are to stop the machinations of Rodrik-Usher the Damned... or both their worlds will be destroyed!

An original fantasy in which the famous American writer meets the hero created by Edwin Arnold in his classic 1905 Martian novel.

Contents:
Edgar Allan Poe on Mars by Randy & Jean-Marc Lofficier (2007).