In a Thousand Years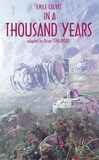 IN A THOUSAND YEARS
by Emile Calvet
adapted by Brian Stableford
cover by Jean-Felix Lyon

Gédéon turned his head in the direction in which his nephew was pointing. "Notre-Dame!" he said, emotionally.
Terrier shivered and drew nearer to his companions. "Let us salute," he said, "the only acquaintance that we have yet encountered in this marvelous new world."

US$22.95/GBP 14.99
5x8 tpb, 324 pages
ISBN-13: 978-1-61227-192-7

In a Thousand Years (1884) is solidly set in the tradition of "euchronian" fiction, arguing that political reform goes hand in hand with technological progress. Calvet paints a ground-breaking picture of a world transformed by prolifically-distributed electric power and aerial transportation, demonstrating an attention to utilitarian detail rare among other constructors of futuristic utopias.

Calvet's characters do not experience the future of the year 2880 as if it were a vision, but have the subjective impression that they have been physically displaced by suspended animation, even discovering ashes and records of their genealogy in the Necropolis of future Paris.

Seen from the viewpoint of the early 21st century, the book is a truly remarkable combination of innocence and ingenuity, unparalleled in its own time and rare even today. Contrasting the actual future that developed with the imagined future of a century ago, only adds to the reader's experience.

Contents:
Dans Mille Ans (1884)
Introduction and Notes by Brian Stableford.