Living with the Dead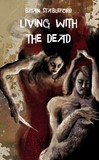 LIVING WITH THE DEAD
by Brian Stableford
cover by Daniele Serra
Sometimes, you have to be haunted for a long time before you figure but what the dead actually mean to you...
US$ 29.95 /GBP 23.99
5x8 tpb, 392 pages
ISBN-13: 978-1-61227-902-2

The concluding volume of the trilogy, Living with the Dead is set in and around Toulouse, shortly after the death in Paris of Jane de La Vaudère. Madame Louvot is now serving as Paul Furneret's housekeeper. He is living close to an old convent leased by the residents of which apparently have orders not to communicate with him, although they supply gods from their farm and their distillery to him via Madame Louvot.

Seven years later, Paul Furneret is visited in his Toulousan cottage by Victor Marvaud and Gaston Lambrunet, who are keen to persuade him to return to Paris. Their visit coincides with a "coup" in the cult launched by Madame Zosima and now operated as quasi-Fouierist feminist "phalanstery." Zosima is deposed, and her "convent" is taken over by a "trinity" led by Lilith, who have their own ideas regarding the supposed revelations of anterior lives. Also visiting are the Megisters, an English couple who owns both the convent and Paul's cottage..
Lilith has researched Paul's background and discovered information that might help him to identify his mysterious "guardian angel" and to decipher the mystery of his supernatural ability, which she plans to exploit. Paul, who no longer needs the help of hypnotists to contact the dead, begins to develop new psychic powers, but not the ones Lilith sought to use.
Those psychic phenomena have unintended fatal results, leaving Paul in no doubt as to the dangers inherent in his powers, confronting him with a stark challenge and an awkward dilemma...

Brian M. Stableford has been a professional writer since 1965. He has published more than 60 science fiction and fantasy novels, as well as several authoritative non-fiction books. He is also translating the works of Paul Féval and other French writers of the fantastique for Black Coat Press which also published his most two recent fantasy novels: The New Faust at the Tragicomique and The Stones of Camelot.

Contents:
Living with the Dead (2019)