The Little Fays in the Air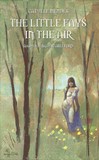 THE LITTLE FAYS IN THE AIR
by Catulle Mendes
introduced & adapted by Brian Stableford
cover by Mike Hoffman
What completed her surprise, admiration and envy was a troupe of little fays, blue, and as transparent as moonbeams, leaping from poppy to poppy all over the field…


US$21.95/GBP 12.99
5x8 tpb, 248 pages
ISBN-13: 978-1-61227-846-9


Catulle Mendès (1841-1909) wrote more tales featuring fays than any other French writer—nearly twice as many as Madame d'Aulnoy. However, by the 1880s, the genre had been largely misremembered and remained unread for a hundred years. It is, therefore, unsurprising that Mendès elected to draw his own imaginative raw materials from Shakespeare rather from than any original French sources.

Even though his tales feature a different species of fays, Mendès' belated contributions to the genre have closer affinities with it than he may have suspected. He is a deliberately subversive writer, not only employing the narrative dynamic of his fantasies to insist that amour is far from perfect, but frequently applauding certain aspects of that imperfection.

This volume provides a useful illustration of a significant, if eccentric, phase in the history of the genre.


Contents:
Introduction
The Sufficient Gift
The Enchanted Bed
The Mute Princess
The Bridal Costume
The Roses of the Blue Garden
Puck in the Organ
The Narcissus
The Three Dresses
Courage Recompensed
Vain Betrothals
The Enchanted Ring
The Solitaries
The Flower who was Cold
The Wishes of an Eglantine
What Fays Cannot Do
The Naked Princess
The Most Beautiful Memory
The Good Almanac
The Sweetest Urgency
The Wish Granted
The Little Fays in the Air
The Fay Liar
Luscignole
Water, Ice and Fire
The Clear-Sighted Gold Coin
The Stupidities of Jocelyne
The Poet and the Pearl
Prince Lys and the Wave of Snow
The Flowers' Carnival
Azure, Gold and Crimson

Stories gathered from Les Contes du rouet (1885), Lesbia (1886), Pour les belles personnes (1886), Pour lire au couvent (1887), L'Envers des feuilles (1888), La Vie serieuse (1889), La Princesse nue (1890), Les Petites fées en l'air (1891), Luscignole (1892) , La Messe rose (1893), L'Homme orchestre (1896) Arc-en-ciel et sourcil rouge (1897) and Le Carnaval fleuri (1904).