Queen of Illusions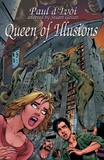 QUEEN OF ILLUSIONS
novel by Paul d'Ivoi
translated by Stuart Gelzer
cover by Roberto Castro
US$ 24.95 / GBP 22.99
6x9 tpb, 320 pages
ISBN-13: 978-1-64932-214-2
Between 1894 and 1914, Paul d'Ivoi (1856-1915) wrote a series of 21 volumes, collectively entitled The Eccentric Voyages, clearly inspired by and updating Jules Verne's classic Extraordinary Voyages.

While not quite matching Verne for verve and invention, d'Ivoi succeeded in appealing to a new generation of readers by updating many of the great author's ideas, featuring amongst other concepts, an airship with mobile wings, an amphibious mobile fortress, a super-submarine, various types of death rays, futuristic weapons and other mechanical sci-fi devices.

Queen of Illusions (1913) is the last in a series of four volumes of The Eccentric Voyages published by Black Coat Press, after Around the World on Five Sous (1894), Doctor Mystery (1900) and Miss Musketeer (1907), in order to illustrate d'Ivoi's not insignificant contribution to the French roman scientifique.

In it, a luxurious liner, transformed into a necropolis by freezing clouds projected from an aircraft, wanders the ocean like a ghost ship... Thanks to this monstrous crime, the director of Slane Manufacturing, where thousands of inventors work, hopes to become the master of the Billionaires Syndicate. But Miss May, a young engineer, manages to save the life of the legitimate heir of the powerful organization.
Between the ruthless businessman and the young scientist, an unequal struggle begins, the most dramatic episodes of which take place in China, then in the grip of a revolution. Slane believes he can triumph thanks to the Vulture, a fantastic flying machine built in his factories, but he does not know that May, too, has an extraordinary weapon...

Contents:
Introduction by Jean-Marc Lofficier
LES DOMPTEURS DE L'OR (1910)