The Quest of Frankenstein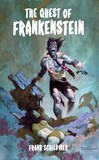 THE QUEST OF FRANKENSTEIN
by Frank Schildiner
cover by Mike Hoffman

US$ 20.95 /GBP 12.99
5x8 tpb, 264 pages
ISBN-13: 978-1-61227-429-4

1914. The Frankenstein Monster moves like a shadowy specter through the bloody trenches of war-torn France. Coming across Herbert West, a scientist as brilliant and insane as his creator, the infamous Victor Frankenstein, the creature secures the promise that West will create a mate for him, but only if he can gather all the bizarre ingredients necessary for the task. Thus begins the Quest of Frankenstein, during which the world's most famous monster will face vampires, werewolves, ghouls and other nightmarish creatures from Beyond.

Based on Mary Shelley's immortal creature, as reinterpreted by Academy-Award winning screenwriter Jean-Claude Carrière in the 1950s, The Quest of Frankenstein features a ruthless, demoniacal monster, a cunning killer with a twisted, evil mind and terrifying plans for the world.

Frank Schildiner is a regular contributor to the popular Tales of the Shadowmen series and several other short story collections featuring pulp heroes and villains.
Contents:
Introduction by Jean-Marc Lofficier
The Quest of Frankenstein
Afterword by Frank Schildiner
Read The Reviews...

If you like monsters, classic movies and pulp literature and a intriguing version of a familiar monster this is your book.
Jeff Venture

Schildiner is adept at blending characters from over a dozen works into one cohesive narrative, and his love and affection for them shows in every page. This characterization of the Monster, so very different from Mary Shelley's, makes me dearly hope that Carriere's novels are someday translated into English, particularly as I'm a fan of his screenwriting for Luis Bunuel, which is what he's probably best known for in this country. I highly recommend this novel!
Sean Levin

Okay so if you are already a fan of Frankenstein, I am preaching to the choir; but maybe not! Author Frank Schildiner has put a unique spin on the Monster with his novel. In the 1950s, French screenwriter and novelist Jean-Claude Carriere wrote half a dozen original Frankenstein novels. Schildiner, who has previously written for the SHADOWMEN series of stories based on French pulp fiction pulp heroes, pits Gouroull -- as this version of Frankenstein is known -- against other famous vampires from throughout pop fiction in his quest to create a mate. Not to be missed!
Don Lee

Schilldiner gives the characters voices that keep you in the scene, and never pull you from the moment, and his action moments are satisfyingly PULP! I highly recommended this book to fans of Hammer Films, Universal Horror Film, European horror and classic adventure.
Charles Loridans

the cinematic sources of inspiration, as well as those drawn from the horror comics of the 1970's were already discussed on youtube at length. i will also not spoil the easter egg hunt that awaits the reader, in which cinematic characters are integrated with literary ones against a historic background which in itself was monstrous beyond belief.
however, i would use this point as a recommendation: the original garroull novels, as the creature is known here, did not involve any other non-human monster. chronologically, "quest" is placed between 1895 and 1925. thus, it's a novel that expands the original author's fictional universe, or stands on it's own, just as well. since at the break of ww2 the creature's fate is unknown, it's all too natural to hope to see him embroiled in it. also, if he does indeed get his wish, i wonder what the "bride of garroull" would be like...
highly recommended!
Daniel Barak

"The Quest of Frankenstein" is one of the most well written horror pastiches ever imagined and Schildiner's work rivals even the most experienced scribes in the field. For in the end, it is his sincere love of the genre that shines through every single page and pulls the reader along for one hell of an unforgettable ride. Easily one of the most enjoyable books I've read all year and one truly warranting a sequel. This is my kind of monster!
Ron Fortier

The Quest of Frankenstein is a fun monster rally of the classic sort, and a light and quick read. When both Rondo Hatton's iconic Creeper and the Blind Dead showed up, I knew Frank Schildiner was a kindred spirit (or had somehow snuck a peek at my DVD collection), and there are few I'd more readily trust with creating such a monster rally.
Bill Adcock