The Alluring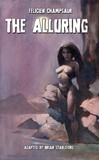 THE ALLURING
by Félicien Champsaur
Adapted by Brian Stableford
cover by Mike Hoffman
Yes, it was Her! It was his statue, his Alluring! Once again, she merited her name, for the artist, panting with joy, was ready to throw himself into the abyss in order to rejoin the mirage.
US$18.95/GBP 16.99
5x8 tpb, 180 pages
ISBN-13: 978-1-61227-909-1
The Alluring (1931) is what is known as a Robinsonade—an account of a castaway on a desert island and his hard battle for physical and psychological survival. Félicien Champsaur, having decided to write a Robinsonade, aware that he was following in a great tradition, wanted to make it a Robinsonade that would go further than any other: a kind of ultimate Robinsonade.

His principal interest is not in the basic requirements for physical survival, but in the subtler demands of mental survival: hypothetical solutions to the problem of psychological isolation.

The Alluring is worthy of attention, not only because of the imaginative extravagance of the story, which displays an exuberant and sometimes blackly comic playfulness typical of Champsaur's work, but also because of its idiosyncratic nature.


Introduction
L'Attirante (1931)