The Black Coats 7: The Sword Swallower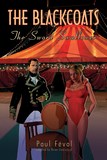 THE BLACKCOATS: THE SWORD-SWALLOWER
by Paul Féval
adapted by Brian Stableford
cover by Jean-Michel Ponzio

"Would it be possible for you to tell me this person's name?"
"He's an Italian; his name is Vicomte Annibal Gioja des Marquis Pallante."
Saladin blew into his cheeks, and sat back in his seat, without bothering to hide his profound astonishment.
"Do you know him?" the Duchesse asked.
Instead of answering, Saladin thought: The Habits Noirs have got here before me. Our comedy is getting more complicated."

US$24.95/GBP 16.99
6x9 tpb, 360 pages
ISBN-13: 978-1-61227-024-1

1866. After the disappearance of their master, Colonel Bozzo-Corona, fourteen years earlier, the Black Coats are a mere travesty of their former selves. Taking advantage of the situation, young Saladin, nicknamed the "Sword-Swallower," the son of Similor, a gang member, now the wily Marquis de Rosenthal, steps into the void and becomes the new Godfather. His ambitious plan to restore the once-powerful criminal empire to its invicible criminal glory consists of stealing the fortune of young Justine, kidnapped as a baby and turned into a rope-dancer with the name of Mademoiselle Saphir. Justine, in reality the daughter of the wealthy Justin de Vibraye, is also desired by the evil Duc de Chaves, a deadly adversary for the Sword-Swallower...

Written third, but chronologically last in the series, The Sword-Swallower (1867) was intended by Paul Féval to be the final tale in the criminal saga of the Black Coats. "It is a unique work, which might arguably benefit from being read in isolation, without any reference to its companions," notes Brian Stableford.

Contents: L' Avaleur de Sabres (1867) by Paul Féval;
Introduction, Afterword and Notes by Brian Stableford.