The Black Coats 5: The Companions of the Treasure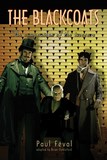 THE BLACKCOATS: THE COMPANIONS OF THE TREASURE
by Paul Féval
adapted by Brian Stableford
cover by Jean-Michel Ponzio

"I am Gold. I am Wealth. I'm the power of money, which none can resist. You must not compare me to Kings or Emperors, or anyone who lives upon the Earth. I have only two rivals: one in Heaven, the other in Hell. For only God, if God exists, and Satan, if Satan exists, can say as I do: Everything in the world is mine, for I own it all!"
The Colonel

US$29.95/GBP 19.99
6x9 tpb, 400 pages
ISBN-10: 1-934543-26-8
ISBN-13: 978-1-934543-26-9

For over a century, the Black Coats have ransacked Europe, accumulating wealth beyond the dreams of avarice. The location of their treasure is known only by their godfather, Colonel Bozzo-Corona, but now some members of the High Council of the criminal brotherhood have banded together to form the Companions of the Treasure, a cabal-within-the-cabal which plots to wrest that secret from their immortal master. Meanwhile, the Colonel, who once killed his own son, is now pitted against his grandson in a generational conflict of evil...

Written in 1870-72, The Companions of the Treasure is a key work in Paul Féval's saga of the Black Coats and a uniquely interesting specimen in the history of the crime novel, anticipating Arthur Conan Doyle's Professor Moriarty, Mario Puzo's Godfather and Robert Ludlum's Matarese Circle.

Contents:
Les Compagnons du Trésor (1870-72) by Paul Féval;
Introduction, Afterword and Notes by Brian Stableford.
Afterword by Jean-Marc Lofficier.