The Black Coats 4: The Invisible Weapon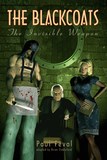 THE BLACKCOATS: THE INVISIBLE WEAPON
by Paul Féval
adapted by Brian Stableford
cover by Jean-Michel Ponzio

"I had a strange dream last night. I saw myself a hundred years from now, speaking to a man whose father has not yet been born, but who was already wearing a grey beard, and telling him that there are only two things that shall not die:God, who is GOOD, and I, who am EVIL."

US$29.95/GBP 19.99
6x9 tpb, 408 p.
ISBN-10: 1-932983-80-5
ISBN-13: 978-1-932983-80-7

Paul Féval's 1860s multi-layered, seminal criminal saga continues!

1838. Investigating Magistrate Remy d'Arx is on the trail of the Black Coats. If he isn't stopped, the evil brotherhood of thieves and assassins may well be destroyed. But d'Arx has taken precautions in the event of his death. Only the nearly immortal Colonel Bozzo, the mastermind of the criminal conspiracy, can put an end to his threat by using his most deadly scheme -- the INVISIBLE WEAPON. But dissension grows in the ranks of the villainous society and soon, even the Colonel himself is under attack...

The Black Coats! The name alone makes one shiver! Men of power unknown and crime eternally unpunished! The Black Coats: homicidal phantoms roaming the nocturnal silence of Paris! As far as the Courts are concerned, they do not exist since the nature of their organization shelters them from the law. Paul Féval, the father of the modern detective novel, continues the dark chronicles that gave its lettres de noblesse to criminal literature.

"The Invisible Weapon is executed with tremendous panache. Despite its age, modern readers will find it just as stirring as their mid-19th-century counterparts." Brian Stableford.

Contents: L'Arme Invisible (1869) by Paul Féval; Introduction, Afterword and Notes by Brian Stableford.