The Black Coats 2: Heart of Steel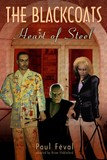 THE BLACKCOATS: HEART OF STEEL
by Paul Féval
adapted by Brian Stableford

cover by Jean-Michel Ponzio

Léon saw before him, in the frame of those dark tresses, the head of a young woman with delicate and almost child-like features. For him, the illusion attained the supernatural-and it required the subtle gaze that filtered momentarily between Marguerite's long lashes to recall him to a sense of reality. "You've grown younger," he said, "while we've grown old."

US$ 26.95 /GBP 18.99
6x9 tpb, 388 pages
ISBN-13: 978-1-935558-05-7

At last, we learn the history of Marguerite Sadoulas, once an obscure young actress who, through her stunning beauty and Machiavellian intelligence, overcame all obstacles and reached the pinnacle of Parisian high society, becoming the much-envied Countess de Clare, while, at the same time, rising in the criminal hierarchy of the Black Coats, to eventually be admitted into the much-feared High Council of that all-powerful, evil society.

Written in 1865, Heart of Steel is the first chapter chronicling the Black Coats' attempts at stealing the fabulous fortune of the de Clare family. Paul Féval, the father of the modern detective novel, continues the dark chronicles that gave its lettres de noblesse to criminal literature by introducing the first, great female villain in the history of crime fiction.

Contents:
Coeur d' Acier (1865) by Paul Féval; Introduction, Afterword and Notes by Brian Stableford.