The Black Coats 3: 'Salem Street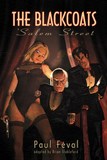 THE BLACKCOATS: 'SALEM STREET
by Paul Féval
adapted by Brian Stableford
cover by Jean-Michel Ponzio

"A moment, my lambs!" said the larger of the two men, whose face was hidden by the rim of his felt hat. "IT'S GETTING LIGHT!" It was as if a thunderbolt had fallen into the midst of the assassins. "Lecoq!" they said in a tone of inexpressible terror."Good evening, children," the shorter of the two new arrivals said. "Godfather!" murmured the trembling bandits."

US$24.95/GBP 16.99
6x9 tpb, 340 p.
ISBN-10: 1-932983-46-5
ISBN-13: 978-1-932983-46-3

The first volume in Paul Féval's 1860s multi-layered, seminal crima saga, which also include John Devil and Gentlemen of the Night.

1834. Using a Pretender to the Throne of France, the powerful crime cartel known as the Black Coats plan to steal one of the largest fortunes of Europe. But from Jerusalem Street in Paris, the headquarters of the Sûreté, to the Castles of Normandy, their schemes are foiled by a new nemesis: a young street urchin nicknamed Pistolet, worthy precursor of Rouletabille and Archie Goodwin. The dreaded cabal is not so easily thwarted...

In this book, for the first time, Paul Féval, the father of the modern detective novel, reveals the origins of the Black Coats and of their mysterious, seemingly eternal master, Colonel Bozzo. Long before the Corleones, Blofeld, Fu-Manchu and Moriarty, the historical saga of the Black Coats, spanning seven volumes, of which this is the first to be translated, gave its lettres de noblesse to criminal literature.

"The Black Coats remain unique. They remain unchallenged as invincible architects of fiendish plots, for whom monetary gain is merely a way of keeping score, while their true purpose is to do evil for evil's sake, even--and perhaps especially--to one another." Brian Stableford.
Contents:
La Rue de Jerusalem (1868) by Paul Féval; Introduction, Afterword and Notes by Brian Stableford.