The Empire of the Necromancers 2: Frankenstein and the Vampire Countess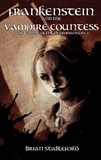 FRANKENSTEIN AND THE VAMPIRE COUNTESS
(The Empire of the Necromancers 2)
by Brian Stableford
cover by Daniele Serra

"It was the eyes of Countess Marcian Gregoryi that suddenly filled Temple's with their magical blueness, as infinite as the sky, while the avid ghosts clustered round, gloating. Temple tried with all his might to struggle, but he knew that he could not do it. He was utterly helpless. He tried to cry for help, but he could not."

US$ 20.95 /GBP 12.99
5x8 tpb, 256 p.
ISBN-10: 1-9344543-89-6
ISBN-13: 978-1-934543-89-4
1822. Thanks to the technique discovered by Victor Frankenstein, it is now possible to resurrect the dead. Scotland Yard Superintendent Gregory Temple, on the trail of criminal mastermind John Devil, who plans to use such technology to reshape the world, is now forced to team up with Paris Morgue supervisor Jean-Pierre Severin, Malo de Treguern and Frankenstein's own creation to confront a cabal of vampires led by Count Szandor and the inhumanly beautiful Countess Marcian Gregoryi who also seek Frankenstein's secret...

Frankenstein and The Vampire Countess is the second volume in a prodigious Alternate History saga which embraces the works of Mary Shelley, Paul Féval, Alexandre Dumas and others, written by Brian M. Stableford, an acknowledged master of the genre, author of the critically acclaimed The Plurality of Worlds.

Stableford has been a professional writer since 1965. He has published more than 60 science fiction and fantasy novels, as well as several authoritative non-fiction books. He is also translating the works of Paul Féval and other French writers of the fantastique for Black Coat Press which also published his most two recent fantasy novels: The New Faust at the Tragicomique and The Stones of Camelot.

Contents: Frankenstein and the Vampire Countess includes "The Return of Frankenstein" and "The Vampire in Paris" which appeared respectively in Tales of the Shadowmen Nos. 4 and 5.