The Masters of Silence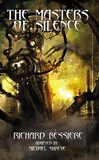 THE MASTERS OF SILENCE / THEY CAME FROM THE DARK
by Richard Bessière
adapted by Michael Shreve
foreword by Stephen R Bissette
cover by Yoz

In a matter of seconds I realize that I am cut off from the exterior world. The walls collapse on me and I am swallowed up. I feel like I am plunging headlong into a world of darkness... Beyond time and space... Beyond the boundaries of my body...

US$ 22.95 /GBP 14.99
5x8 tpb, 292 pages
ISBN-13: 978-1-61227-297-9

Richard Bessière made his mark on 1960s French science fiction through a number of novels that featured an original blend of horror and SF.

In The Masters of Silence (1965), Engineer Milland has been summoned to a secret lab by Professor Watson, but when he arrives, Watson has just been murdered by his wife, Valerie, during what is said to be a fit of madness. Valerie had tested a machine to explore the Inner Mind invented by her husband. Milland volunteers to go into her mind-but, in so doing, may unleash creatures of darkness upon the Earth...

In They Came from the Dark (1967), Ashby, just released from prison, finds himself hired on a ghost ship that travels through time, picking up derelicts like him. He eventually ends up in a mysterious Antarctic valley, which exists outside of time, inhabited by monstrous alien parasites intent on spreading upon the rest of the Earth like an unstoppable disease.

Two classics of French sf/horror by an acknowledged master of the genre, with an introduction by Stephen R. Bissette.

Contents:
The Masters of Silence [Les Maîtres du Silence] (1965)
They Came from the Dark [Cette Lueur qui venait des ténèbres] (1967)
Introduction by Stephen R. Bissette