The Palace of Vengeance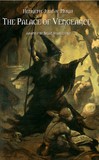 THE PALACE OF VENGEANCE & OTHER TALES OF ENCHANTMENT
by Comtesse Henriette-Julie de Murat
adapted by Brian Stableford
cover by Mike Hoffman


I am Pagan the Enchanter, and my power extends over the whole world, except for you…


US$39.95/GBP 29.99
5x8 tpb, 532 pages
ISBN-13: 978-1-61227-774-5

Henriette-Julie de Castelnau, Comtesse de Murat (1670-1716) was one of the leading authors of tales of enchantments crafted in the literary salons peripheral to the court of Louis XIV in the 1690s which ultimately gave birth to a large sector of modern fantasy fiction.

The Comtesse's earlier stories are set in the time of the fays, a remote mythical past, but her later ones take place contemporaneously in countries that are only separated pseudogeographically from France.

Her stories are remarkable for the imaginative extravagance of their plots; the superbly surreal depiction of magical civilizations, the extreme trials to which she subjects her heroes and heroines, caused by jealous rivals intent on breaking the amorous bond between them, and their often deliberately atypical conclusions.

This collection presents thirteen novellas and short stories published between 1698 and 1710. It includes her masterpiece, The Goblins of Kernosy Castle (1710), a surprisingly sophisticated work for its time and remarkably modern in its lightly humorous tone and ingenious intricacy.


Contents:
Contes de Fées (1697)
Introduction
Perfect Love
Anguillette
Young and Beautiful
The Palace of Vengeance
The Prince of Leaves
The Fortunate Penalty
A Father and his Four Sons (from Voyage de Campagne)
Prefatory Material from Histoires sublimes et allégoriques
The Swine King
The Island of Magnificence
The Story of Princess Blanchette and Prince Verdelet
The Story of Grandimont, King of the Arsacides, and Princess Philomele
The Savage
The Turbot
The Story of the Queen of the Isle of Rocks and the King of Coquerico
The Story of Merline and Prince Fortunate
The Goblins of Kernosy Castle
Madame de Briance's Story
The Story of Zariade
Bearskin
Madame de Briance's Story Continued
Starlet
The Comte de Tourmeil's Story
The Fay Princess
Introduction and Notes by Brian Stableford.