Panic in Paris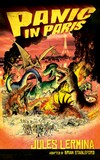 PANIC IN PARIS
by Jules Lermina
adapted by Brian Stableford
cover by Stephen R Bissette; cpolors by Cayetano Garza, Jr

Men! What were they in the face of these aggregations of muscles and tendons, these Leviathans that fable had scarcely dared to describe! They represented brute force, blind instinct and the omnipotence of preservation, the persistence of life in fabulous longevity, the cohesion of primal energies in which the future of worlds was seething.

US$20.95/GBP 12.99
5x8 tpb, 252 pages
ISBN-10: 1-934543-83-7
ISBN-13: 978-1-934543-83-2

It all begins innocently enough when the corpse of a London boxer is discovered at sunrise on the Place de la Concorde in Paris. But the man was reportedly seen in London only a couple of hours earlier... A great English detective and France's leading investigative reporter team up to solve a baffling mystery that will ultimately take them to a network of vast caverns under Paris inhabited by prehistoric monsters, waiting to be released…

Jules Lermina's Panic in Paris (1910) combines the tradition of utopian fiction with both the scientific advances of the 19th century and the pseudoscientific trappings of Edward Bulwer-Lytton's The Coming Race (1871). It also features some intriguing anticipations of two key works by Arthur Conan Doyle, prefiguring both The Lost World (1912) and The Poison Belt (1913).

This volume also includes Lermina's classic vampire novella, The Elixir of Life (1890).


Contents:
- Panic in Paris (L'Effrayante Aventure, 1910);
- The Elixir of Life (L'Elixir de vie, 1890)
Introduction and Notes by Brian Stableford.
READ THE REVIEWS...
Lermina even introduces the generic King Kong staple of a prehistoric monster derailing a train, not to mention such critters only being enraged or energized by lethal doses of electricity ("…the trolley broke and fell upon the ancestor, discharging a thousand volts into it; that made it angry, and, quickening its pace, it set off…"), among others — but suffice to say this is essential reading for paleo sf buffs, a lot of fun and a real revelation.
Stephen R Bissette

if you enjoy offbeat early science fiction there's plenty of enjoyment to be had.
Vintage pop fictions