Paranamanco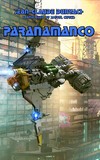 PARANAMANCO
by Jean-Claude Dunyach
translated by Sheryl Curtis
foreword by Natacha Vas-Deyres


cover by Phil Cohen

US$ 22.95/GBP 22.99
5x8 tpb, 280 pages
ISBN-13: 978-1-64932-192-3
Paranamanco, the latest collection by Jean-Claude Dunyach, the award-winning author of The Night Orchid and The Thieves of Silence, includes eleven short stories and one novella, six of which have never been published before in English.

In the back of a shady alley, all planes of reality meet… God is 700 million kilometers long, 140 million kilometers wide, and weighs about 16 grams… In the arctic depths of Canada, microscopic aliens are breeding… Strange birds are invading the streets of Amsterdam… Space diamonds big as oranges are used as fuel… Alien cities are made of flesh…

With a dash of hard-science, a bit of magical realism, and a good dose of warped wonders, this is Dunyach at his best.

"Jean-Claude Dunyach and his stories represent the workings of a multiplex engine of creation, its multiple cylinders all entrained in perfect unison, and whirring at high speculative RPMs!" Paul Di Filippo.

Find out why The Night Orchid was called "one of the most successful single-author collections I've read for some time" (Alien OnLine) and "a definite must-read for science fiction fans" (Blether) and Dunyach "one of the most talented imaginations living today" (David Brin).

"A must-read, not only for people interested in French SFF, but on account of sheer imaginative brilliance and top-class writing... After this banquet, from now on I shall immediately read any new story by Dunyach that I see; and so should you." Ian Watson.



Introduction.
GOD, SEEN FROM WITHIN..
A PLACE WHERE ALL PATHS CROSS.
BREAKING THE SHELL..
DIAMOND ANNIVERSARY..
THE GOLDEN AGE OF REALITY..
LANDSCAPE WITH INTRUDERS.
PARANAMANCO..
LOVE STORY WITH A FALL..
DECLARING PEACE..
TROJAN FLOWERS.
LOVE YOUR ENEMY..
WITH A WINK OF THE HERON'S EYE..
Sources.
About the Author.
About the Translator.
Bibliography.