The Polarian-Denebian War 2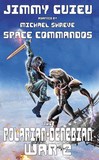 THE POLARIAN-DENEBIAN WAR

Henri-René "Jimmy" Guieu (1926-2000) was one of the leading French SF authors of the 1950s and 60s, before he turned to the exploration of UFOs and parapsychological phenomena. In this classic six-volume saga (presented in English in two volumes), written in 1954 through 1956, Guieu introduced his signature hero, French paleoanthropologist Jean Kariven, and imagined that Earth was secretly caught in a vast space-time war pitting the benevolent Polarians against the aggressive Denebians. Guieu sprinkled the books with some of his favorite themes, such as UFOs, alien encounters and ancient astronauts, while delivering fast-paced SF adventure.
2. SPACE COMMANDOS
by Jimmy Guieu
adapted by Michael Shreve
cover by Genkis

US$30.95/GBP 20.99
5x8 tpb, 392 pages
ISBN-13: 978-1-61227-555-0

In the second half of the series, the space war between Polarians and Denebians heats up, with Earth stuck in the middle. Jean Kariven is forced to join his space friends and take part in an assault on the enemy's cosmic stronghold. The series ends as it began, on a trip through time showing the changes wrought by the war.

Contents:
Introduction by Jean-Marc Lofficier.
4. Commandos de l'Eespace [Space Commandos] (1955)
5. Nos Ancêtres de l'Avenir [Our Ancestors from the Future] (1956)
6. Prisonniers du Passé [Prisoners of the Past] (1956)