The Police Agent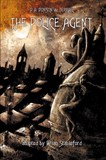 THE POLICE AGENT
by Pierre-Alexis Ponson du Terrail
adapted by Brian Stableford
cover by Daniele Serra

"The Prince is still asleep."
"Well," said Porion coldly, "it's necessary to wake him up."
"You have something very important and very urgent to tell him, then?"
"Would I be insisting otherwise?"
"Since it's necessary to tell you everything, the Prince is taking a bath."
"Yes, a bath in blood," said Porion.
"You know that?"
"I know everything."
US$31.95/GBP 21.99
6x9 tpb, 452 p.
ISBN-13: 978-1-61227-593-2

The Police Agent (1867) is a milestone in the development of crime fiction. Its eponymous hero, the cunning Mr. Porion, a.k.a. Père Cinnamon, does not employ his detective skills to pursue a vampire-like serial killer intent on bleeding children, but rather to protect him, while simultaneously serving other predatory aristocratic interests, such as providing the lecherous King Louis XV with a steady supply of virgins.
This crime novel Ponson du Terrail wrote may seem eccentric to 21st century eyes because the genre has undergone many refinements, but it remains fascinating as an example of its evolution. The Police Agent contains examples of deductive detection applied to a criminal investigation, as well as foreshadowing what became the "police procedural."
The Police Agent boldly asks: if the police and the criminals are on the same side, possessed of all the power and legal authority, who can play a heroic role, and how can he possibly prevail, escaping torture, murder and annihilation?


Contents:
The Police Agent [L'Auberge de la Rue des Enfants Rouges] (1867)
Introduction, Afterword and Notes by Brian Stableford.