Hexagon Group #1: The Dark Hive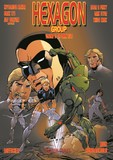 HEXAGON GROUP #1: THE DARK HIVE by Jean-Marc Lofficier & Juan Roncagliolo Berger & José Luis Ruiz Pérez. Cover by José Luis Ruiz Pérez.

Contents:
A CALL TO ARMS
Story: Jean-Marc Lofficier; Art: Juan Roncagliolo Berger
IN THE DEPTHS OF THE DARK HIVE
Story: Jean-Marc Lofficier; Art: José Luis Ruiz Pérez
O, BITTER VICTORY
Story: Jean-Marc Lofficier; Art: José Luis Ruiz Pérez

The Hexagon Group was born either in 2002, when they made their first retroactive appearance in Strangers #1, or in the 1960s, depending upon how one looks at it.

Like The Justice Society of America and The Avengers, the group gathered together a single team of different heroes published by Editions Lug in their own series between 1964 and 1974.

There is Aster from the negative dimension of Zhud; Jeff Sullivan, a.k.a. the Man of Brass, descended from a long line of heroes; the powerful Dark Flyer; the beautiful Black Lys from France; Dax, the Mysterious Archer; and White Mask from the African Republic of Zambola, all brought together to fight the evil Melanos, Aster's archenemy.

Later Hexagon finds itself in Zambola facing a terrifying new threat... A mysterious insect-like civilization threatens to overwhelm the Earth, turning its inhabitants into a hive. What past secret connects the Dark Flyer to the Hive Queen? What fateful decision must Black Lys take to save the planet? And what compels White Mask to leave Hexagon forever?

Art by Juan Roncagliolo Berger and José Luis Ruiz Pérez.

7x10 squarebound comic, 76 pages b&w
ISBN-13: 978-1-61227-928-2 - US$12.95