Hexagon Spotlight on... Alfredo Macall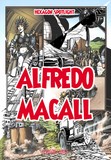 The Art of Alfredo Macall.

Mexican artist Alfredo Macall has been one of the major contributors to Hexagon Comics since taking over the adventures of the pirate Dragut in 2002. Since then, he has contributed to the award-winning series Strangers, as well as the popular Guardian of the Republic, Kidz, Phenix, Galaor, etc. His dynamic story sense, wonderful lay-outs, great character design, have made him one of the French public's favorite artists.

In addition to his comics work, Alfredo has also contributed over 50 covers to the Hexagon Classics archival collection reprinting classic series from the 1950s to the 1980s. This new Spotlight issue includes all of the covers drawn by Alfredo to date, plus numerous sketches and character designs.

"Henri Matisse said: 'creativity takes courage,' and certainly I've never met anyone more courageous than Alfredo Macall." Jean-Marc Lofficier.



7x10 squarebound comic, 68 pages color.
ISBN-13: 978-1-61227-947-3. US$19.95.