Sibilla: The Heir of Cagliostro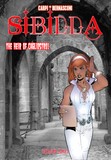 SIBILLA: THE HEIR OF CAGLIOSTRO
Story: Pier Carpi; Art: Luciano Bernasconi.
Adapted by J.-M. & R. Lofficier
Cover: Stephane Roux + Randy Lofficier
1. The Heir of Cagliostro
"Sibilla" is the nom-de-plume of Elena Drago, a woman who writes a popular astrology column for Flash, an Italian tabloid. But is that all that she is? Only her editor, Maria Carpi, knows that she is also a powerful medium and expert in the Occult.

The bossy but astute Maria teams "Sibilla" with her best investigative reporter, Leonardo Verga, a skeptic, to look into unexplained cases in order to generate sensational articles.

The ground-breaking first episode of this series about the Occult was originally published in 1975, written by renowned author, screenwriter and film director Pier Carpi, and drawn by legendary Italian artist, Luciano Bernasconi.


7x10 squarebound comic, 56 pages b&w
ISBN-13: 978-1-64932-236-4. US$12.95.