Starlock / Homicron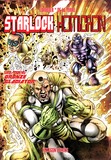 STARLOCK & HOMICRON: story by Jean-Marc Lofficier; art & cover Mariano De La Torre; colors by Anthony Dugenest & Studio Cirque;.

When STARLOCK was still a cosmic Guardian working for the Towers, he once had to fight the invincible SCILIX and his demonic hordes from Cepheus. However, he did not meet that challenge alone. He was assisted by the ORIGINAL HOMICRON from Planet Alpha, and the mighty BRONZE GLADIATOR from Arena, whose planet was threatened by the unstoppable forces of Scilix…

Also included in this issue, in color for the first time ever, the SECRET ORIGINS of STARLOCK guest-starring STARCYB, HOMICRON and C.L.A.S.H .

Two cosmic sagas illustrated by Spain's Mariano De La Torre.


7x10 squarebound comic, 54 pages color
ISBN-13: 978-1-61227-037-7 - US$12.95