The Partisans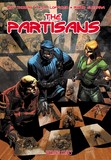 THE PARTISANS: THE SHORTEST NIGHT!
story by Roy Thomas; script by Jean-Marc & Randy Lofficier; art by Mario Guevara

US$ 9.95 / GBP 7.99
7x10 tpb, 48 pages b&w
ISBN-13: 978-1-61227-787-5
The fate of the war will be decided not by the miserable humans, but by the MASTER RACE!

JUNE 1944. The day before the Allied landing. A group of super-powered Nazis threatens the success of Operation Overlord: Stahlmann, Vampyr, Scarlet Lips and other, even more terrifying creatures can stop the progress of the Allied troops on the beaches of Normandy...

But Churchill and De Gaulle have anticipated the danger! They dispatch a team of fearless heroes led by Captain Rick Ross, a.k.a. Baroud, the Archer Princess Sadko, the French Guardian of the Republic and Marianne, the famous Black Lys, the legendary Metal Man and the young American Ricky Rox... The fate of Europe is now in the hands of THE PARTISANS!

A prodigious saga of the last days of World War II published in France to commemorate the 70th anniversary of D-Day and brilliantly staged by Roy Thomas (All-Star Squadron, Invaders), R.J.M. Lofficier (Dr. Strange) and Mario Guevara (Solomon Kane).